I'm not a grandparent but I got this book for my mother. It is a super book for granparents of all ages and in all stages of life.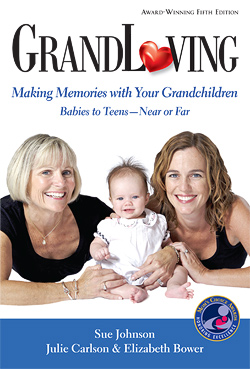 You can be the grandparent that every child wants! With
Grandloving's
heartfelt ideas you'll connect, bond, and grow closer to your grandchildren.
The new, 5th edition of
Grandloving: Making Memories With Your Grandchildren
includes anecdotes and hints from hundreds of grandparents, parents, and grandchildren from all over the world.
Whether you're a seasoned grandparent, newbie nana, or child caregiver, this vast collection of fun, low-cost activities, resources and helpful information provides support for family members of all ages!
Revised, updated, and expanded 5th edition (View our videos for more details.)
Co-authored by two generational team: Grandma Sue Johnson, her daughter-in-law, Julie Carlson, and daughter Elizabeth Bower (Learn about them.)
Illustrated by Ronnie Walter Shipman and Frederick B. Johnson